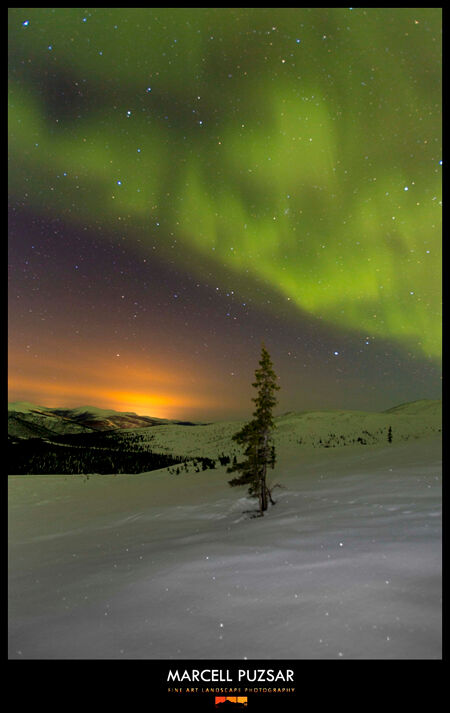 Northern Lights in Alaska from Twelvemile Summit

I still cant get over the majesty of the aurora. The green, the cold, the snow, the sky, the stars and all the excitement coming with it. It was an adventure and a dream-like phenomenon, which we'll always remember with great excitement. A sense of wholeness, a sense of the extraordinary, a sense of something bigger than we are.


I. Story of our visit to Alaska and the Northern Lights


Having been to many great locations around the world, but never to the heart Alaska, photographing the Northern Lights during the winter, has been on our bucket list for a while.



Aurora Viewing in Fairbanks, Alaska



The trip became a reality when to celebrate life in the far North. As great and exciting adventure as it is, a lot of planning and preparation went into this trip. I have to tell you that the aurora borealis hunting turned out to be very successful, as you can read in the article, but it required timing and persistence to be fruitful. As there are not too many practical advice and articles out there on the web regarding this topic for the photographer I would like to share my own experiences about this unforgettable trip. Special thanks to Henry Throop for his detailed article from luminous landscape –http://www.luminous-landscape.com/techniques/aurora.shtml, which gave us a good start. As we learnt a lot from our visit we would like to share some useful information and tips from our personal story to photographers for the first time and adventurers of the future.



When is the best time to visit and how can I increase the possibility to see the aurora ?



When it comes to the best time to visit Alaska (and other Northern countries) for the Northern lights then March and September are your best bets. In These months of the year the cold weather could be somewhat milder, you have a better chance for clear skies and the nights are still relatively long as its totally dark between 9pm-5am. Alaskan summers are not good for the aurora as the daytime is long and you need
to have dark skies to be able to see the phenomenon. As a general rule the peak activity is between midnight and 2 am, but on long and clear winter nights this can happen earlier.


Green Aurora with Purple coloration from the Chena Hot Springs Road



We were told that if we could count 10 stars after the sunset then we have a chance to see something. Of course, being avid aurora hunters, my wife and I took this as a general rule. But still on a perfectly clear night and away from the city we were unlucky to see anything between 11pm and 3am. In contrast, another night when it was totally overcast in Fairbanks we headed out 70 miles away from the city and we saw the most amazing show. For a good forecast keep an eye on the UAF Geophysical Institute's site: http://www.gi.alaska.edu/AuroraForecast. Here on the scale you will see numbers between 0-9 showing you the activity forecast. But even if you see a low number (1 or 2) that should not let you down because you can still see the magic happen in front of your eyes on a night like this.




Aurora daily forecast



So if you decide to go "aurora hunting" then you need the following in order to have a good head start: dark and clear skies, distance from any possible light pollution (city, villages) and some luck.


About the actual aurora, what it is and how is it created


When we look at such an amazing phenomenon, its good to understand what it is and how it is formed.


First of all auroras both appear in the Northern (aurora borealis) and in the Southern Hemisphere (aurora australis). In the north this well known latin phrase was named after the Roman goddess of Aurora and the Greek for north wind in the 17th century. The phenomenon doesn't really happen when earthy souls leaving our planet, but actually its created when solar particles are blown into the Earth's magnetic field from the Sun. These energetic particles of the solar wind have an interaction with the atoms of the upper atmosphere. They mainly collide with oxygen and nitrogen atoms. During the collision their electrons are knocked away and the resulting ions radiate at different wavelengths and create the green, purple and greenish-blue colors in the atmosphere.Interestingly the Sun has larger eruptions on a roughly 11-year basis, which tends to be around 2013. This means that the aurora can be watched from lower latitudes, too. But certainly the years of 2013-14 are great ones to see the northern lights.




Green Aurora at Twelvemile Summit, 90 miles off Fairbanks



II. Preparation for the extreme cold of Alaska during the winter


My wife, being from the South and used to lots of sunshine and mild winters gave us enough reasons to prepare well for this cold trip.


-Rental car. As the public transportation in Fairbanks is scarce, a reliable car rental is needed. Reservation is the easiest in advance, but arriving at the airport we just changed the reservation to a different rental company as Thrifty couldn't provide any kind of insurance with the car (if you have your own that will do). Most rental cars are very reliable, relatively new and are in good shapes. It was funny to see that all rental cars come with an extension cord sticking out somewhere in the front around the grill. This is to plug in your car so that the battery, engine block, and transmission will stay nice and warm. There are a lot of electrical outlets in the motel, hotel parking areas to plug in mostly for the night.


-Accommodation. There are several hotels and lodges in Fairbanks, butwe would highly recommend to use Airbnb for a great place to stay. Thisgreat company is a social platform between people who have space to spare and those who are looking for a place to stay. In Fairbanks Airbnb is getting more popular year by year. We stayed at Paul's B&B in a comfortable studio upgraded to a one with a private jacuzzi and a fireplace. The fireplace was amazing after a long aurora hunt, when we returned to the studio feeling cold and tired.


-Staying warm.The average temperature during the winter months at night is between minus 10 and minus 30 F. Just like in San Francisco on acold day 3-4 layers on the body was recommended. Ski pants, a down jacket, fleece pullover, scarf, hat and gloves are all necessary to be comfortable in the cold. Aurora hunting is a cold night sport and if you are not prepared the experience will be far from memorable. Hand warmers are essential. WalMart and Safeway among others sell them. What we learnt about these that it is is good idea to open and shake the package minimum an hr before use (they last up to 10-12 hrs) and keep one in a warm pocket and away from the skin. When they were in contact with the outside air they stayed pretty much cold.


-A headlamp is a life saver, when it comes to hikes, changing film and cards so its a very useful part of a northern trip.






A magnificent and strong aurora on toward Chena Hot springs with a carlight



Safety tips and advice to prepare for the cold in the Alaskan winter


I would like to mention here – as we have been warned many times – that you are in Alaska, a rarely populated land where you be pretty much alone in the wilderness. Therefore its best to be prepared for the worst – and of course expect the best. Most car rental companies offer tested and reliable cars, but some extra preparation can go far.


1. If you have to spend a night in the car you should always have some snack/food and some water.


2. Because the temperature often drops under -20F, it is a great idea to have a mini heater, hand-warmers, a blanket and a sub-zero sleeping bag. Protect your head, hands and feet as a lot of body heat escapes via these body parts.


3. Dress in many layers. You can always take some off if the weather gets warmer.


4. Always have a headlamp and enough batteries on you.


You can just carry these in the trunk at all times. Cell phone signal is not the best away from the city so if you are in trouble you just need to be patient and wait for the next oncoming car (or the spring). People are very helpful and ready stop for you if this happens.



Although the sunsets can be really inviting be prepared for a -20 or -30F evening in the winter






III. What equipment do you need and how to operate the camera






Panoramic Film Equipment with 100 and 800 ISO films



The equipment I took with me for the trip


Film camera: Being an avid panoramic shooter I could not leave
without my Fotoman 617 camera and the two lenses, the 90mm Fujinon and
the 210mm Schneider ones.


Film: My main choice of film is Velvia, but I knew that 100 ISO was
not the best for the aurora photography. So I packed some higher speed
Kodak 800 films.


Digital SLR: I had my Canon MarkIII body with with 2 lenses: the
16-35mm and the 50mm one. 2 16Gb SanDisk Extreme cards was in the kit.
The 16-35mm 2.8 was a perfect choice. I didnt use the 50mm too often,
and a long telephoto lens – while great for the wildlife- would have
been bulky and unnecessary.


Tripod: I had my carbon-fiber Gitzo tripod and ball-head.
Carbon-fiber tripods are said to be broken easily in extreme
temperatures. I put my Gitzo into test every night in -30F for hours.
Maybe this was not long enough but I didnt experienced anything unusual.
You need to be careful though and avoid slamming it or striking it hard
to avoid breaking it. The Gitzo ballhead went through the cold test,
too, but all I can say that all metal elements and parts were operating
well in the cold (mostly mid -20F or -30F)


Photographing the northern lights in Alaska


1. To have the best possible experience before the aurora hunt, be
prepared. Head light, hand-warmer, snacks, sub-zero sleeping bag and
water are all necessities.


2. Cameras should be loaded (with film and cards respectively). Have a
small piece of tape for the manual focus. Shutter releases are useful
extras.


3. A zip loc plastic bag is always useful. First you can put small
equipment into these (cards/ films/ remote release and viewfinder). You
can also use it for your cold camera to thaw as condensation will form
on the outside of the bag. Don't worry about condensation while you are
moving equipment in and out of a warm car too much. Since the extreme
cold of arctic nights creates very dry air this should not be a problem.


4. Attach camera onto tripod with the wide angle lens ready to shoot.


5. Keep an eye on the forecast and prepare for the location around 10-10.30pm. The drive can take up to 1-2 hours sometimes.


When it comes to the actual photography you just have to be patient.
In the next chapter I will suggest you the best places we found for the
aurora photography in the area near Fairbanks.


Find a place with clear skies, preferably 30-50 miles away from the
city and settlement. Get ready around 11pm from the safety of a warm and
reliable car. When you see the lights coming out get into action!


Grab your camera and shoot right away as you never know how it will
last ! Once again your best chance is between 11 p.m. and 2 a.m, but
during strong solar storms aurora can be seen at all hours once the sky
darkens



Green Aurora at 2am from a Pine Forest near McKay Creek Trailhead






Digital SLR: The basic starting exposure is Iso 800 at 2.8 for 20 sec.


Make sure to set your lens to infinity (manually focused can go
beyond infinity and its hard to focus in the dark) and tape it,
otherwise you would end up with out of focus images, especially because
of the small depth of field.


Exposure between 15sec and 50 sec (with a release cable) gave wonderful results as you can see it above.


Film camera: As my 90 mm lens smallest aperture was f8, I just used 4
minutes shutter speed calculated from the basic digital exposure. To be
able to use shorter time for the exposure is better as the aurora
often moves


from one part of the sky to the other. After the 4min exposure the
aurora looked like a green cloud instead of a beautiful pattern in the
sky.


In case of film camera you need to be careful not to break the film
in the extreme cold. If you are not too far from the car you can keep
the film equipment in the boot. Even in -35F temperature and shooting
for 2 hrs at the time


I didnt have an accident with the film.


For the most part, I spent a maximum of 1-3 hours outside the car,
but with a close proximity to it in case I needed to warm up a bit. Toe
and hand warmers came very handy, but the later was more affective when
preheated inside the car as they lost heat very quickly. You can make
the cold more enjoyable with little experiments such as below.






Playtime in the Freezing cold. During a 30 sec exposure wrote this with my bike light






Where to go to photograph the aurora, the best secret places around Fairbanks


Based on my experience spent around Fairbanks in March these are the best places to photograph the aurora from:


1. Esther Dome. This place is easy to reach from Fairbanks. Takes
about 20-30 min from the University of Alaska on a clear day. The city
view is magnificent and the sunsets are great. The only problem is that
the city is between the Northern Lights and You so the light pollution
is disturbing.



Sunset Shoot from Esther Dome, 30 min away from Fairbanks



2. Eagle Summit ( 3.5 hour 120 mile drive from Fairbanks on the Steese Highway)



Aurora near the Steese Highway toward Central



3. TwelveMile Summit ( 2 hour 90 mile drive from Fairbanks on the
Steese Highway). You need to be well prepared for this drive. Leave 11pm
the latest from Fairbanks ! Its a long drive, but what you can see its
worth it! Also the chance for cloudy sky and major light pollution is
minimal.



Green Aurora on Steese Highway near Twelvemile Summit



4. Gold Dredges on Steese Highway (The road is maintained year round
and during the winter months it is best to travel during the day.)



An amazing Gold Dredge Shot with the green aurora near Fairbanks



5. Chena Hotsprings Road (on the way to and back from Chena you have
plenty of opportunities to see the aurora. The Hot Springs have popular
spots to enjoy the show while soaking in the hot water)



One of the most spectacular Northern Lights in March near Chena Hot Springs






I included a map detail from the Alaskan Steese and Elliott Highways
Travel Guide to make it easier for you to find a good spot when it comes
to aurora Hunting:



Steese and Elliott Highways Travel Guide Map detail




1:3 Fine Art Print called
"Green Gate of the North".










Prints are available from the Marcell Puzsar Fine Art Photography "Gallery" section at marcellpuzsar.com/gallery.